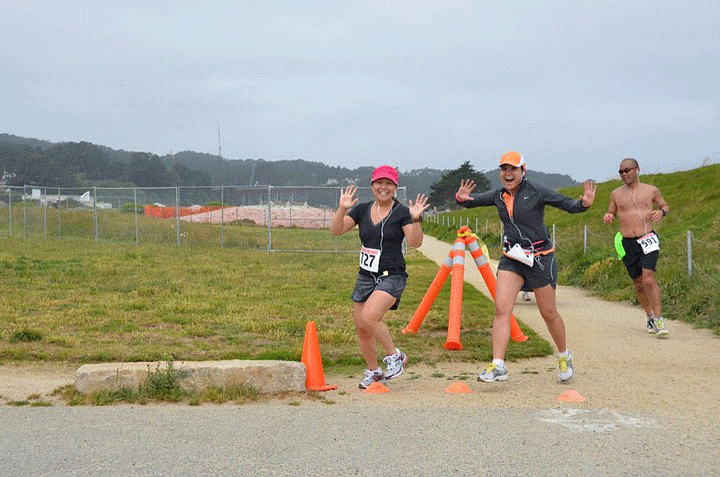 Do you like this gif? Because there are more coming! If not, um... sorry.
So this post is loooooong overdue. I have all these cute pictures that I've been wanting to show even though they've been posted on umpteen different blogs already. (But I bet my dear friend in Santa Fe hasn't seen them yet - hello, Amanda!!!)
Earlier this year, I had been struggling with getting back into running but you know what makes it so much easier? Running with friends! I've been so fortunate that these early weeks of my official marathon training plan have coincided with so many fun group runs. The trick is to make sure there are awesome peeps there (check) and that there is some type of drink/food activity afterward (check).
Blogger Meet Up
The first one was a blogger meet up organized by Aron from
Runner's Rambles
. This was a super fun one as I only knew a handful of the girls there prior to the run. Met a lot of cool and really interesting people that morning!
They all have some amazing blogs and I encourage you to check them out!
Top row (L-R):
Alisyn
,
Naomi
,
Page
,
Kristen
,
Caitlin
,
Kerry
,
Layla
,
Beth
,
Courtney
Bottom row (L-R):
Alyssa
, Tara, moi,
Jana
,
Katie
,
Megan
and
Aron
Missing:
Cate
I ran with Naomi during the actual run which helped me a lot because she pushed me to run faster than I had been doing on my own.
Afterward, we hung out at Peet's for coffee and chitchat. We all hit it off! At one point, I was just sitting there listening to all the conversations going on and I kind of looked around our area and realized, wow, we are REALLY squeal-ly loud. Not as a bad thing, more of a "I'm pretty impressed" thing. (That's because I've been known to be particularly loud and squeal-ly myself on occasion.)
During our coffee chat session, Naomi invited me to another fun group run that was going on the following weekend...
Ramen Run
Ah, yes, Ramen. Can you believe I've never had this before? (with the exception of the stuff you eat in college, of course) Well, it turns out that Alyssa from
Diary of an Average Runner
(which, by the way, she is so *not* average, but whatev) is a HUGE Ramen fan so she organized a super fun meet up called the Ramen Run. We met at the Conservatory of Flowers, ran around Golden Gate Park, and then chowed down at Genki Ramen afterward.
From left to right: Naomi, Layla, Karin, Sandra, moi, Kerry, Alyssa, Jana, and Kristen
I have to thank Alyssa because I think the Conservatory of Flowers is my new favorite meeting spot for running in Golden Gate Park. It's fun to sit on the steps and people watch (there was an awesome and very spirited singing roller skater that morning) and you can't beat the view with the spectacular flower gardens. Plus you've got easy access to a restroom, water fountain, and a snack stand.
Here's our little pack running to the buffalo patch along JFK. I kept up with them up to that point but it was pushing my pace just a bit past my comfort level so I ran the rest on my own and met them all back at the Conservatory.
Then we all headed to Genki Ramen!!! Now I'll be honest, I'm not really a noodle person. I recently had my first experience with pho and wasn't impressed so I wasn't sure how this would turn out but I actually liked it! The noodles are a bit more hearty and it had just enough soup for me. It was a pretty satisfying post run treat.
Veggie Curry Ramen with a side of Gyoza
While enjoying our Ramen, you would never believe what happened - we discussed yet *another* group run for the following weekend!
DSE 6 Hour Distance Classic
As I understand it,
Alyssa
was once again the mastermind of this super fun social run. Her local running club had organized a 6 hour run where people would run around this one mile loop at Crissy Field as many times as they wanted. It was pretty convenient - easy access to a fully supported aid station (and I mean,
supported
- peanut M&Ms, gummi bears, watermelon, cookies, etc) *and* a restroom. And I loved the idea that you could kind of feel like you were running with your friends even if they were way faster than you. At some point you'd see each other during the many loops.
I had to do 9 miles that day so this was perfect for me. The loop was pretty flat and it was nice and chilly so I actually finished with a 10:45 pace which is really good for me these days. Because I started late (Naomi and I spectated the Jungle Run half marathon that morning down in the south bay), everyone finished before me and were hanging out by the aid station. Knowing I would see them every mile kept me on my toes. :)
OK, now get ready for animated gif overload... I honestly can't help myself!
Did I mention we had professional photographers during this run? Or at least friends with professional cameras? :P
Listen, if people are going to cheer so enthusiastically for you *and* take pics - of course, I'm going to ham it up!
Aron took some pics of all of us, too!
I was the last one to finish and it was super nice of everyone to hang out until then. (I *hate* making people wait for me.) I'm sure everyone was just having fun hanging with friends and chilling on the lawn on a lovely Sunday afternoon. :)
We all got ribbons!!!
Later on...
... well, of course, we ended up back at Genki Ramen!!!
(Note: Since then, I've done two more long runs up in SF and both times, we followed up with ramen. It's like a Pavlovian response now - do long run, must have ramen. :P)
I get to see the running crew again this weekend! I'll be spectating the
SF Marathon
on Sunday - should be fun to bust out the cowbell again!